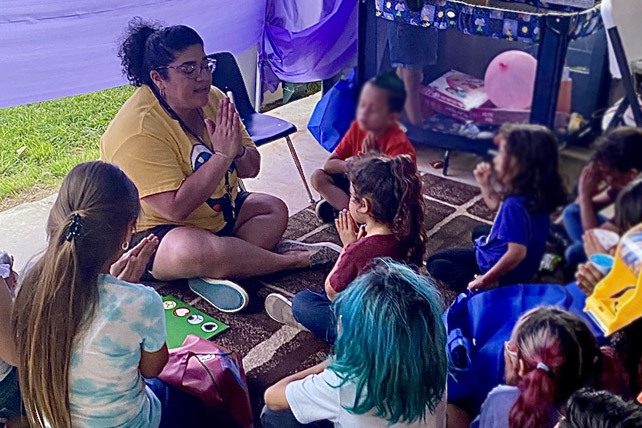 The media has descended on Uvalde, Texas, marking one year since the horrific shooting at Robb Elementary School. Poking and prodding the townspeople with questions to get an emotional rise out of them, they are doing more harm in the opinion of Child Evangelism Fellowship (CEF) local ministry director, Angela Carillo. "They are stirring the pot and poking wounds" she states.
On that fateful day, May 26, 2022, East Texas State Director for CEF, Mimi Sellers, instantly had flashbacks to the 2018 high school shooting in Santa Fe. Now comparing the two tragedies she says, "The best thing we did was keep the media out. Churches were strong, we were able to heal. When the media comes back to Uvalde on the anniversary of the shooting, we can expect protesting and possibly riots."
The town already had a lot of challenges. Extreme poverty not only plagues the townspeople but prevents gathering enough taxes to help with civil government infrastructure. People who couldn't afford to lose their jobs suffered such grief and turmoil that they didn't go to work and lost employment. The ripple effect has caused the economy to suffer even more. People have spiraled down with grief, guilt, regret, and blame. The media goads people into venting about what hasn't happened by way of improvements since the shooting. People wonder what happened to the donated money and the promises for better school security.
The atmosphere in the town is one of volatility. Loud people are approaching others, even people in their cars, and intimidating them. People feel vulnerable and afraid—when they're not feeling angry.
Sellers summarizes the complexity and hopelessness. "There has been an economic, emotional, and spiritual collapse. There is a need for someone to rise up and take the town and turn it around. We know that Jesus is the answer." Sellers and her ministry colleagues are strategizing on two levels.
The first part of the strategy is a partnership with churches to reach children and their families through various community outreaches. The second part has to do with long-term sustainability for ministry.
After the shooting, CEF volunteers from around Texas and even from headquarters in Missouri came to Uvalde and did street ministry. They started by connecting with pastors who themselves were traumatized. They were with families as they went to the hospital and morgue, viewed unspeakable things, and some were touched even more personally. At one point, CEF workers and pastors met for a strategy meeting. "You are the first people to ask us how we are doing" they said.
CEF volunteers brought thousands of a gospel-centered trauma healing booklet by the title, "Do You Wonder Why?," for distribution. They walked the streets offering to pray with people and distributing both English and Spanish booklets. Representatives from the schools and library took over a thousand copies of the booklet between them. Churches used the booklet that very Sunday.
One of the CEF staff who came to the town was Angela Carillo, the CEF Local Director for San Antonio. After seeing the spiritual openness of the Uvalde townspeople, she just couldn't leave. God provided for her to stay in town for eight months. She was able to hold several trainings and establish a local CEF ministry, coordinated by Silvia Alvear, a woman with administrative and teaching skills. Alvear leads the children's ministry at her church and has made inroads with a few others.
Most churches in town have not recovered. Families with children or families who lost children have seemingly lost faith and are not attending church. Most churches are aging, and the pastors are demoralized. However, there are two bright spots.
Templo Christiano, which holds services in both English and Spanish hosted a volunteer training by Carillo and Alvear. Ten volunteers from the church help at the library's Good News Club and the church held a CEF Party Club booth at a recent Dia Los Ninos fair. In the past, the church passed out candy, toys, and did games. But with Alvear's direction, they had multiple programs with a Bible story and led over a thousand children and parents in prayer to receive Jesus as their Lord and Savior. The church pastor loved the improved format.